What to expect when we clean your air ducts:

1) We remove the register or grill and vacuum it

2) We look into the duct work with the special camera to see how dirty it is and what is involved

3) We run the Rotobrush through register or grill opening with the vacuum on and the brush rotating. We usually need to go back and forth several times reversing the brush each time.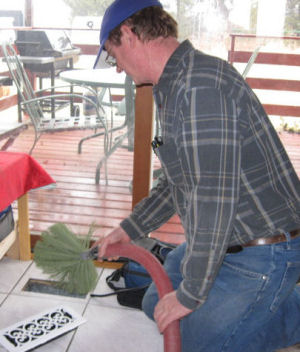 4) We check the duct work with the camera to make sure it is clean. If not we repeat the last step.
5) We replace the grill or register
6) We go to the next grill or register and do steps 1 through 5 for it
7) Once all of the supply and return runs are done we take the Rotobrush machine to the basement.
8) If there are no access openings in the main trunk we will cut access holes so the full main trunk can be cleaned.
9) Similar to steps 2 through 4 but with a larger brush and hose we clean the main trunk.
10) We place covers over the access holes
11) We clean the bottom of the return drop and the blower cabinet (area near air filter).
12) We spray a bacteriostat / fungistat / deodorizer in to the duct work as the furnace blower is running
An extra step would be if the furnace blower or air conditioner evaporator is extremely dirty. In that case it would need to be removed and cleaned. This is not part of the normal duct cleaning and would be an extra charge. It will usually cause more of a functional or efficiency problem with the air conditioning and in an extreme case the heating. So this would probably require a return visit with an air conditioner or furnace tune-up. That is why it is really important to keep your furnace air filter changed.
Rotobrush at work video:
Please watch the Rotobrush manufactures video of the above process. We stick pretty close to it except we do not usually wash the registers and grills with water. If you would like that done there would be a small extra cost.

Thank you
Thank you for taking the time to read this. If you have any questions at all either shoot me an e-mail or give me a call. I would be happy to talk with you about it.

Bob Dorn
A Polar Bear Air
(815)544-5424
apolarbearair@gmail.com
---
---
Click on: Home to go to my main page.
©A Polar Bear Air, LLC
All Rights Reserved